Thousands can still be claimed on PPI cases – even after the deadline!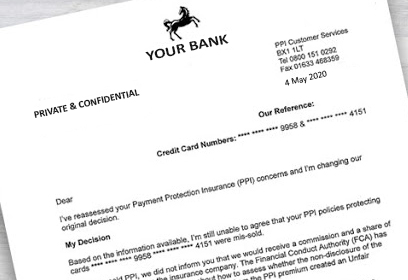 Both NEW and EXTENDED claims are still being made in 2020.
Tap on the Claim type for your situation
Existing PPI claim paid – Bank did not refund all premiums paid:
If you had PPI it is likely that a large portion of the premiums you paid were actually made up of secret commissions. In many cases this commission was in excess of 50% of the cost of the product and this was frequently not disclosed at the point of sale.
Many settlement received did not include ALL the 'Unfair Commissions' or associated costs.
All settlements should be checked to ensure the moneys dues were disclosed and paid in FULL.
PPI claim rejected on grounds of NOT mis-sold:
Many claims were rejected giving the season 'NOT mis-sold'. This decision was often based on the wording in the bank questioner.
If you definitely had PPI but the claim was rejected the claim should be reviewed as no allegation of mis-sale is now required.
Missed the PPI deadline – but have evidence of PPI:
PPI claims can still be made by solicitors. The 'deadline' only stopped direct application from claimants to the banks.
This page shows how to identify if your product had PPI attached to it: Common product names used on statements
TAX deducted from settlement payment:
In many cases TAX was deducted from settlement payments. These monies can often be recovered.
No claim started as did not believe PPI was mis-sold:
Most claims were encouraged as 'mis-sold'. The Plevin court ruling changed this so you can now claim against 'unfair/hidden commissions'.
If you have evidence a PPI product was attached to loan you can make a fresh PPI claim.
This page shows how to identify if your product had PPI attached to it: Common product names used on statements